Images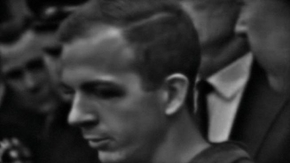 Josh Azzarella / Untitled #42 (2007) / video, edition of 7 / 00:44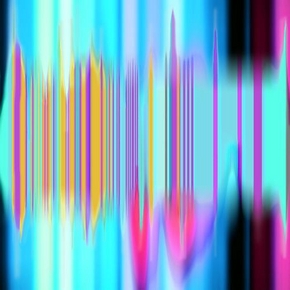 Tim Bavington / Study for Manic (Positive), 2010
Synthetic polymer on canvas / 48 x 48 inches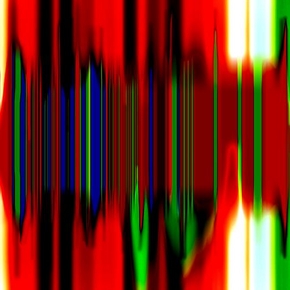 Tim Bavington / Study for Manic (Negative), 2010
Synthetic polymer on canvas / 48 x 48 inches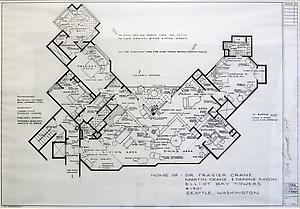 Mark Bennett / Home of Dr. Fraiser Crane, 1998
Ink and pencil on vellum / 24 x 36 inches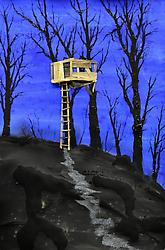 Kim Dorland / Treehouse, 2010
Acrylic, watercolor, ink, wood paper and glitter on paper / 60 x 40 inches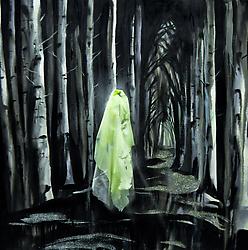 Kim Dorland / Ghost in the Woods, 2010
Watercolor, ink, acrylic and glitter on paper / 40 x 40 inches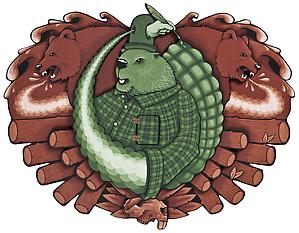 Jeremy Fish / Build A Strong Dam Foundation (2010) / Acrylic on wood / 36 x 30 inches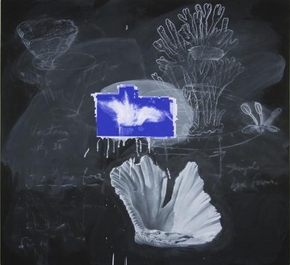 Vernon Fisher / Quick/Dead, 2010 / acrylic and oil on canvas / 43 x 47 inches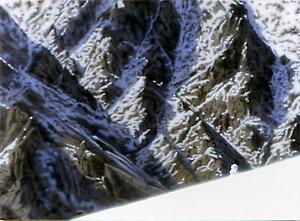 Todd Hebert / Snowmass, 2003 / acrylic on canvas / 36 x 48 inches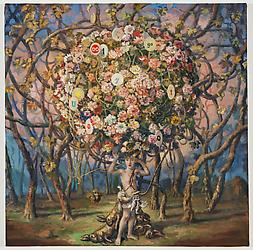 Julie Heffernan / Study for Self Portrait Holding a World, 2008
Oil on canvas / 12 x 12 inches

David Hilliard / Turret, 2010 / c-print / 3 panels @ 24 x 20 inches each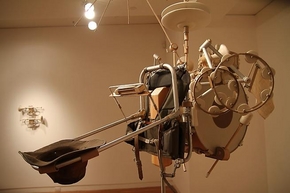 Kiel Johnson / Busker Rig, 2010
chipboard, high density foam, conduit, waxed canvas, pine, aluminum
72 x 36 x 103 inches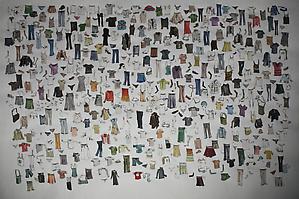 Kiel Johnson / Everything He Wears (2010) / sumi ink and gouche / 42 x 59 inches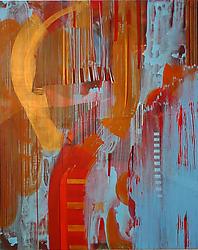 Dimitri Kozyrev / Last One #7 (2010) / acrylic on canvas / 60 x 48 inches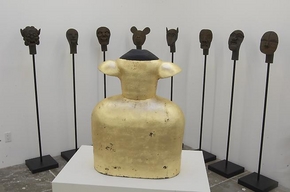 Nobuhito Nishigawara / Study of Facade, 2011
clay, paint and gold leaf / 28 x 14 x 40 inches, masks: 7 x 6 x 13 inches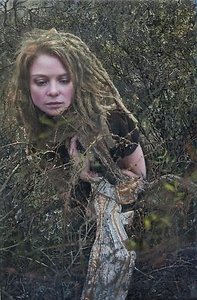 Yigal Ozeri / Untitled; Priscilla with Vines (2010) / oil on canvas / 12 x 8 inches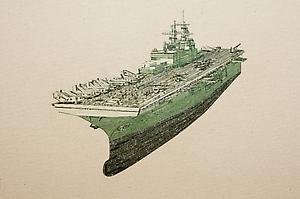 Chad Person / Battan (2010) / reconfigured US currency on canvas / 13 x 19 inches
David Rathman / I've Made Some Gorgeous Mistakes, 2010
ink and watercolor on Yupo paper / 20 x 26 inches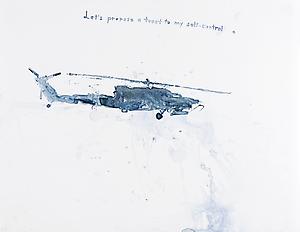 David Rathman / Let's Propose a Toast to My Self-Control, 2010
ink and watercolor on Yupo paper / 20 x 26 inches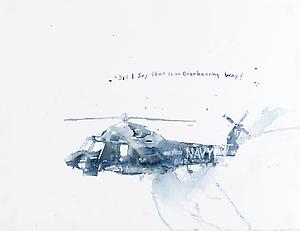 David Rathman / Did I Say That in an Overbearing Way?, 2010
ink and watercolor on Yupo paper / 20 x 26 inches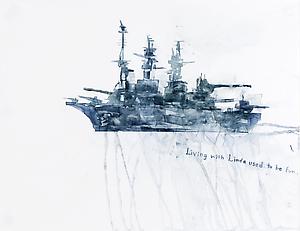 David Rathman / Living with Linda Used to Be Fun, 2010
ink and watercolor on Yupo paper / 20 x 26 inches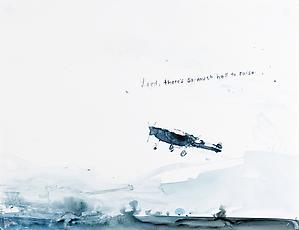 David Rathman / Lord, There's So Much Hell to Raise, 2010
Ink and watercolor on Yupo paper / 20 x 26 inches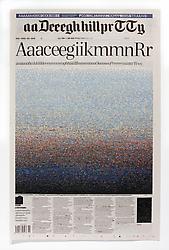 Kim Rugg / That's Enough Hope, I'm Off to Work, 2010
reconfigured newsprint on paper / 24 x 15 inches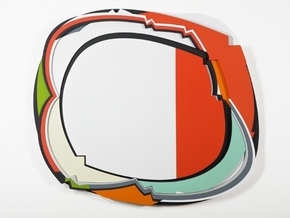 David Ryan / QRU?, 2009
Acrylic and flashe paint on MDF and corafoam / 48 x 55 x 3.25 inches
Cordy Ryman / Hatched Wave, 2010
Acrylic, enamel and spraypaint on wood / 25.25 x 25.25 x 3 inches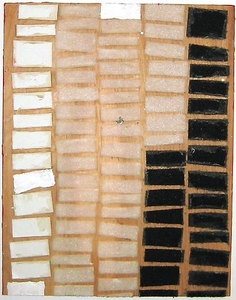 Cordy Ryman / V10, 2009 / acrylic and velcro on wood / 15 x 12 inches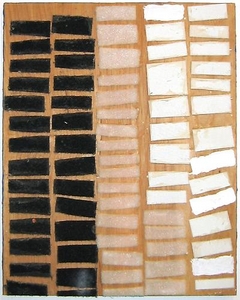 Cordy Ryman / V11, 2009 / acrylic and velcro on wood / 15 x 12 inches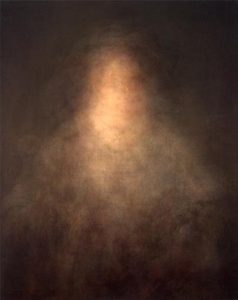 Jason Salavon / Portrait (Rembrandt), 2010 / c-print, edition of 7 / 40 x 30 inches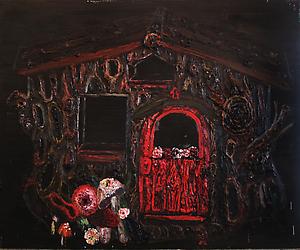 Allison Schulnik / Gnome Home #2, 2010 / oil on linen / 60 x 72 inches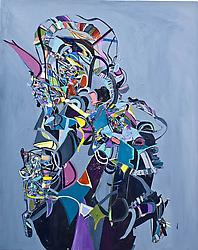 Ali Smith / Superstructure, 2010 / oil on canvas / 60 x 48 inches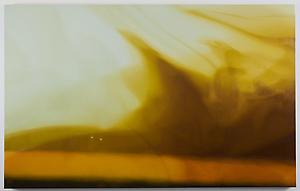 Ben Weiner / HFCS, 2009 / oil on canvas / 32 x 48 inches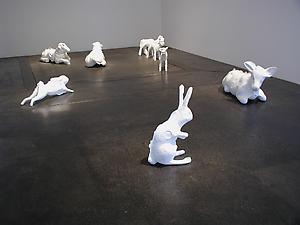 Yoram Wolberger / Petting Zoo, 2004
cast resin running bunny, standing bunny, calf, lamb, sheep / dimensions variable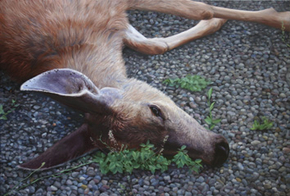 Cindy Wright / Who Killed Bambi, 2006 / oil on canvas / 48 x 72 inches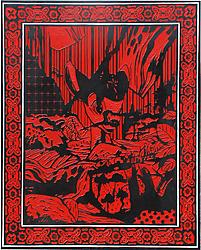 Kenichi Yokono / Soil, 2010 / carved wood and enamel / 21 x 18 inches
Press Release
Opening Reception: Saturday, January 8th, 5-8p
On view January 8 – February 12, 2011
Featuring: Josh Azzarella, Tim Bavington, Mark Bennett, Kim Dorland, Jeremy Fish, Vernon Fisher, Todd Hebert, Julie Heffernan, David Hilliard, Kiel Johnson, Dimitri Kozyrev, Nobuhito Nishigawara, Yigal Ozeri, Chad Person, Kim Rugg, David Ryan, Cordy Ryman, Jason Salavon, Allison Schulnik, Ali Smith, Ben Weiner, Yoram Wolberger, Cindy Wright and Kenichi Yokono
In celebration of Mark Moore Gallery's relocation to Culver City (CA), OPEN will commemorate both the premiere of the 5790 Washington Boulevard space as well as Mark Moore's twenty-fifth year of business.
Featuring works by the twenty-five artists that encompass the current program, OPEN acts as an inaugural introduction and homage to the gallery's evolution. The exhibition features an amalgamation of recent and exemplary works from each of the artists that have shaped Mark Moore Gallery's projects, while also previewing the upcoming shows of 2011. Now housed in a preserved Historic Building, the gallery will begin the new decade in a renovated space by Peter Zellner of ZELLNERPLUS (Culver City, CA), whose previous projects have included Susanne Vielmetter Los Angeles Projects (CA), REDCAT (CA), LAXART (CA), Wallspace Gallery (NY), Matthew Marks Gallery (opening 2011, CA), and many others. Recently highlighted on Art + Auction's "Power" list, Zellner has devised a contemporary compliment to the preexisting brick façade, vaulted wood ceilings and enclosed courtyard that comprises the new 3,200 square-foot gallery.
Establishing the next phase in a continuing institution, OPEN will act as the vernissage for a celebratory exhibition and proliferation to come.